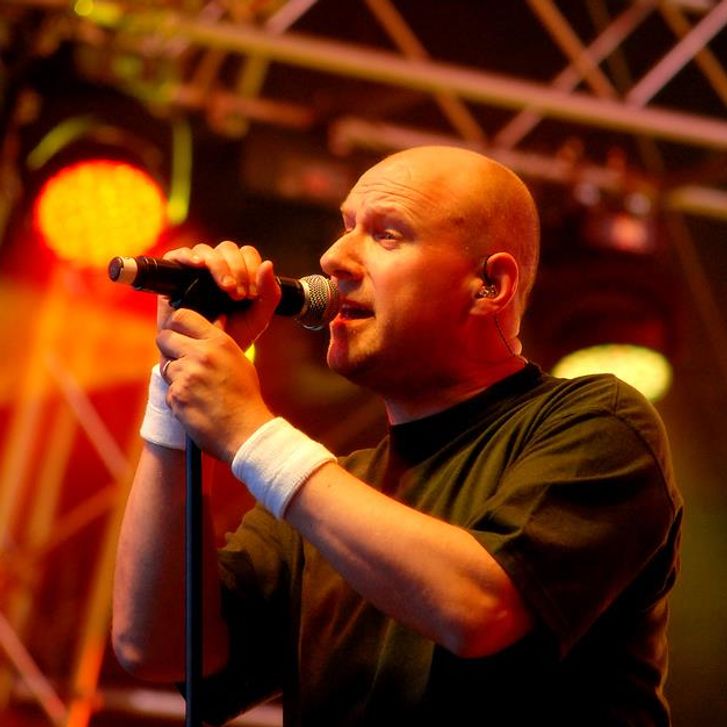 Dave Whitehouse
vocals, drums and percussion
Dave is Britain's leading Phil Collins tribute vocalist and has been reproducing the sound, mannerisms and humour of the Genesis frontman for nearly a quarter of a century.
In 1997, he joined the well-respected Genesis tribute band Invisible Touch.  He performed concerts across the UK, headlining the 2001 Genesis Weekend event in Crewe and fronting the final hours of a record breaking Drumathon.  Having played to audiences (once including an impressed Genesis guitarist, Steve Hackett) for over five years, Invisible Touch played their final concert in April 2002.
During this time, Dave was involved in a special one-off show as the vocalist in Strictly Banks – a unique tribute to the solo music of Genesis keyboardist, Tony Banks.  The 1998 concert was released on CD and remains the only dedicated live performance of Banks' solo music.  Dave spent time with Tony in preparation for the show and was involved in the mixing of the live album at The Farm with Genesis producer Nick Davis.
With the Invisible Touch project coming to an end, Dave jumped at the chance to front No Jacket Required when the band formed in late 2002.  Not only did he have the voice they were looking for, he also by now had the hairline to go with it!
In the summer of 2005, Luxembourg Big Band Opus 78 approached Dave to front their forthcoming show 'One More Night'.  The show was given the support of Phil Collins himself, who gave encouragement in the run-up to the performance, and who Dave met in Germany during Phil's 'First Final Farewell Tour'.  The sell-out Opus '78 show was performed in December 2005 and was recorded for two national television transmissions later that year.  The show was repeated outdoors in Luxembourg city centre to over 4,000 people the following June and a live DVD of the concert was released.  Such was the reaction to his performances that Dave has returned twice more, most recently in 2012 when performing to an estimated 8,000 fans.
​In 2018, his tribute career came full-circle as Dave joined leading Genesis tribute band 'G2 Genesis'.  His tribute career now completely mirrors Phil's own, as he switches between the Genesis classics of the 1970s and the solo hits of the 1980s and 1990s - as broad a repertoire of material as Phil himself performed over so many decades.
Drawing wonderful reviews and positive comparisons with the man himself wherever he plays, Dave is firmly established as a performer with an international reputation for 'being' Phil Collins.